LAND + STUDIOUAP + TSPOON WIN THE "LESS IS MORE 5" COMPETITION FOR A NEW SPORTS COMPLEX AND PARK IN PAGLIAN CASALE - RADICELLI PARK, ROME
StudioUAP
study of architecture
Rome, 20.10.2008
The landscape of the Agro Romano is preserved and enhanced in its meaning by proposing some stratigraphic bands that reveal the diversified landscapes of the Roman countryside with its typical elements (scattered trees, open agricultural fields, clearings, gorges and archaeological remains) and which connect in a the urbanization of the new district is gradual with the rurality of the surrounding area. A significant choice is to reduce the impact of the building and to offer a homogeneous view from the park towards the urban "banks".
The themed bands descending in altitude through the alternation of green slopes and soft terraces gradually offer more rural atmospheres. The urban "banks" group accesses to the park, activities, the sports complex and the system of parking lots and public spaces.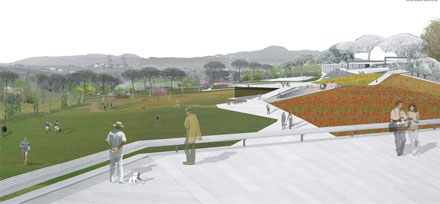 A web of paths continues the distribution of the park which, following the orography, connects the banks and the main path of the cycle-pedestrian ring in the heart of the park. The latter is the element that gives centrality to the park both for the activities that can be carried out there (rest areas, footing, fitness trail) and for the interconnections that are generated there with the entire neighborhood.
Inside the ring, along the whole Radicelli ditch, the park develops with greater natural character.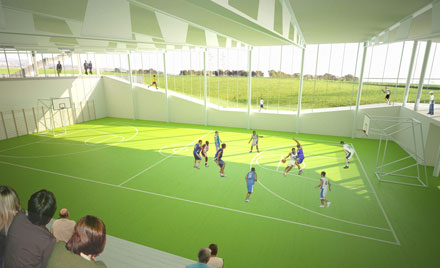 The new sports complex has a strong link with the orography of the Radicelli park in a game of horizontal and inclined planes that result in the integration between the park and the new neighborhood.The new building, which contains the various elements of the sports complex (2 swimming pools, multipurpose gym for sports competitions, club house, meeting room) partially underground, dissolves into layered floors to underline the relationship with the landscape. The floors, the first with a flowery meadow at the road level and the second with mineral treatment at an intermediate level with respect to the park, are connected by ramps which guarantee the continuity of the pedestrian paths.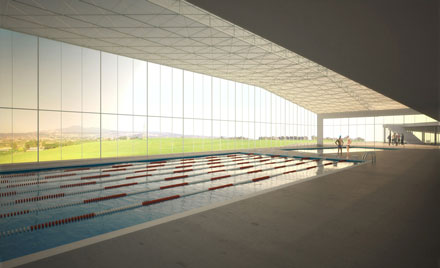 Some horizontal cuts that cross the volume allow wide views of the landscape allowing a fusion between the interior of the building and the precious Roman countryside. One of these, on the roof, treated as an urban landmark, constitutes the entrance to the large central foyer, a covered square, which crosses the building in a transversal direction South / North, overlooking the park after distributing users to the halls entrance to the swimming pools and gym and the other functions included in the program. The lookout on the roof of the sports complex offers a new public space without compromising the continuity between the park and the new neighborhood.